These pumps are manufactured using high quality materials and are designed to deliver years of dependable service. The UP Series is comprised of a large selection of pump models ranging from 1/2 HP through 10 HP with a broad variety of capacities (5 gpm – 80 gpm). Pumps are equipped with floating impellers to reduce the high starting torque. Impellers are made of abrasion resistant Noryl*, with polycarbonate diffusers. Both are encased in a stainless steel bowl. All materials used are highly resistant to corrosion and abrasion.
Quality Features
Cast stainless steel discharge head with built-in check value
Cast stainless steel motor adapter
Stainless steal pump casing
Stainless steal bowls
Stainless steal strainer
Stainless steal pump shaft & coupling
Stainless steal cable guard
Durable urethane bearings
Impellers, diffuses & bearings are constructed of engineering components are non-toxic and are resistant to corrosion and abrasion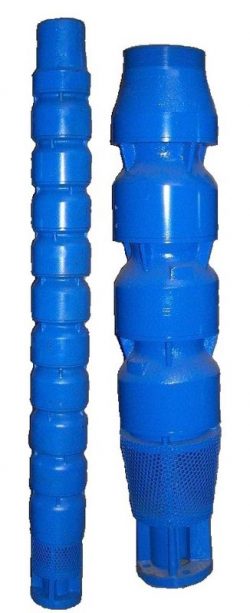 7.5 HP Central Water Pumps
Central Water Pump 4″ 7.5HP 10 Stage
105 Gallons a minute at 190′
Total Head of 350′
Central Water Pump 4″ 7.5HP 11 Stage
96 Gallons a minute at 220′
Total Head of 380′
Central Water Pump 4″ 7.5HP 14 Stage
76 Gallons a minute at 270′
Total Head of 430′
Central Water Pump 6″ 7.5HP 2 Stage
250 Gallons a minute at 60′
Total Head of 170′
Central Water Pump 6″ 7.5HP 4 Stage
170 Gallons a minute at 120′
Total Head of 300′
Central Water Pump 6″ 7.5HP 3 Stage
223 Gallons a minute at 100′
Total Head of 240′
Central Water Pump 6″ 7.5HP 5 Stage
160 Gallons a minute at 150′
Total Head of 350′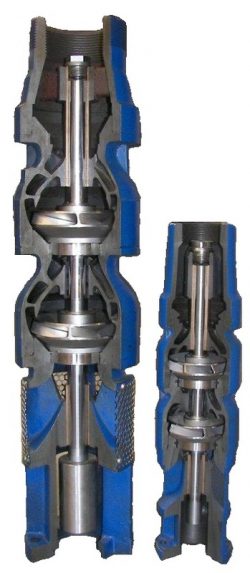 Central Water Pumps
Hard Adduction Chrome or S/S Shaft
The hard adduction Chrome reduces wearing of the shaft
Porcelain Lined Intermediate Bowls
With the porcelain lining, this reduces friction loss and wearing down on the iron from sand and gravel for a longer lasting pump.
660 Bronze Bushing (Top & Bottom)
The pump has a 5-1/2" bronze bushing in the discharge and a 3" bronze bushing lower in the pump to reduce vibration and provides perfect shaft alignment.
304 Stainless Steel Impeller
Corrosion resistant. With 304 S/S Impellers this makes them virtually impervious to sand abrasion.
Cast Iron Intermediate Bowls
Combined with precision balanced stainless steel impellers, this gives the highest efficiency and performance possible.
Ductile Discharge
Comes in 3" female and 4" male adapter.
Ductile Iron Motor Bracket
With the ductile iron, this gives a stronger motor bracket from breaking.

7.5 HP UP Pumps
UP3534
35 Gallons a minute at 625′
Total Head of 1000′
UP5522
55 Gallons a minute at 375′
Total Head of 640′
UP8014
80 Gallons a minute at 260′
Total Head of 425′
*1 Year Warranty – Warranty is voided if check valve or suction screen is taken out of the pump
Call B&M Pump Irrigation Sales & Service, Inc for pricing and availability at 432-758-1817
---