Match Tires to Your System
Don't neglect to coordinate tire size to your new Reinke system. Match span weight and tire size to soil and terrain conditions to maximize application while minimizing rutting.
11 x 22.5
11.2 x 24
14.9 x 24 (for turf)
14.9 x 24
16.9 x 24
11.2 x 38
13.6 x 38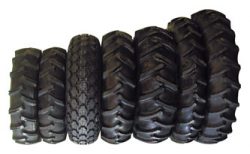 Increase Flotation
The Agri-TRAC provides 5 times as much ground surface area.  Its concave shape and unique rolling action reduces wheel rut depths by 80%.  The Agri-TRAC prevents center pivots and lateral move systems from getting stuck in the mud even on the most difficult soils.
Increase Traction
The tire tread bars mesh with the Agri-TRAC treads and will not slip inside the track even on hills with slippery soils.  The Agri-TRAC provides 10 times as much tread length and traction.
Operates Smoothly
The Agri-TRAC rolls smoothly on small diameter tires (11 x 22.5 recaps) without increasing the load on gearboxes.  Expensive high flotation tires or large diameter tires are no longer needed.  The Agri-TRAC protects tires from sharp rocks and rotting sunlight.
Quality Construction
The Agri-TRAC is warranted for one year against defects in materials or workmanship.  The Agri-TRAC is hot dip galvanized to prevent rust and corrosion.
---