Center Drive:
High efficiency gear motor delivers exceptional torque to propel your system over the roughest terrain and through difficult soil conditions. 3 Output RPMs
Low 60:1 ratio or 29 RPM
Standard 40:1 ratio or 43 RPM
High 25:1 ratio or 70 RPM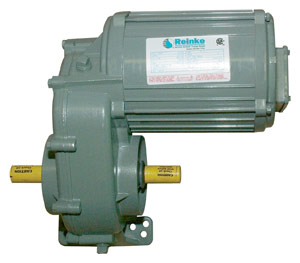 Helical Gear Design – 95% efficiency
All aluminum gear case and motor housing assures cooler running, longer life and increased corrosion resistance
Multi-bolt mounting pattern fits most brands
High-strength steel shafting provides long life and dependability
Thermally protected with automatic reset located in easily accessible junction box
Heat-treated gears
Specially designed input and output seals
Top fill plug positioned to set correct oil level
All critical electrical connections are encapsulated to resist moisture penetration
Use of smaller generators and smaller incoming wire sizes is possible
C.S.A. approved
Stainless junction box cover
Dual shaft seals
New high capacity outer motor bearing
Heavy-Duty Wheel Gearbox Redefines Durability
Backed by the industry's best warranty, covering the cost for both the gearbox and labor, Reinke gearboxes are built to provide years of dependable service.
1. Input shaft cover snaps on to either end to guard against seal and shaft damage
2. Unique rolling diaphragm design minimizes positive and negative pressure build-up during operation – relieving negative pressure prevents water and contaminants from being drawn into the gear case
3. Stainless steel diaphragm cover provides years of corrosion-free life
4. Larger input bearings (largest in the industry) provide 55% greater load capacity for today's larger tires and faster rotation times
5. Non-seizing drain and fill plug for easy maintenance
6. Cartridge style input and output seals utilize a multi-lip design and a precision ground, polished sealing surface to all but eliminate oil leaks
7. End cap is machined from cast steel to handle the higher loads created with today's larger tires
8. Seal protector blocks out contaminants and extends seal life
9. New Bull Gear, designed for greater tooth contact, results in higher load capacity and longer life
10. Large 2 1/4″ diameter output shaft and flange are made of high-strength steel to carry tower loads
11. Centering ring doubles as a load-bearing surface, relieving stress on the lug bolts and lessening potential wheel damage
12. Reinforced housing provides more material in high stress areas, increasing overall gearbox strength
13. Dual input shaft provides universal mounting
14. Output seal features two double-lipped seals with grease-filled gap for extended life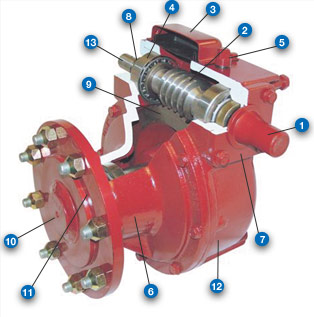 Replacing the standard gear oil with sprinkler Lube 1200TM after the first season will provide exceptional lubrication with minimal maintenance while extending the life of the wheel gears.
---