Perfect for areas with poor cell reception.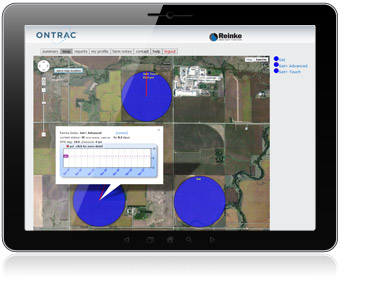 Ontrac Satellite Plus goes where other systems can't: into areas with poor cell reception or where you and your pivots are separated by hours behind the wheel. It's also our most advanced satellite product ever offered, with more management features and increased data accuracy. Unlike competitive touch screen systems, Ontrac Satellite Plus isn't dependent on a cell network that may lose signal.
Ontrac Satellite Plus also works on new or existing Reinke RPM Advanced, RAMs and Touch Screen main control panels. Or, if you plan on buying a new Reinke pivot, this control system can come pre-installed directly from our factory.
Other features include
Remote management in areas with poor or no cellular reception
Track and store more accurate data
Start, stop, pump, speed, GPS position, park, end gun, chemical pump, pressure, flow,power status, safety, auxiliary and more
Can be pre-installed from the factory
No loss of signal
Works through cloud cover
Receive text or email alerts
Ensures service and compatibility well into the future due to satellite technology
Eliminates reception issues due to obstacles
See your local Reinke dealer to customize an Ontrac system for your operation.
---